Anemone themes can bring a new look to your Jailbroken iPhone, iPad & iPod touch. It helps you change your Home Screen layout, Status Bar, and many more in a way that'll feel elegant and make it unique from normal iPhone users.
There are a large variety of Anemone themes available now and you might want to know the ones that'll suit you best.
We'll here we are to help you with the best anemone themes for iOS which we recommend you consider.
Brilliantly visualize your iOS home screen icons, docks, badges, status bar, UI, folders, boot logo, and more on your iPhone, iPad, and iPod touch with our finely chosen anemone themes.
Update: Starting from iOS 7 to iOS 11, the jailbreak community had Anemone but it has been discontinued from iOS 12 since the anemone theme engine doesn't support the version's codebase. So we suggest you look into snowboard themes if you have a higher iOS version. If in case you don't know, Snowboard is a lightweight spiritual successor to the legendary Anemone theme engine.
These themes are chosen with various aspects in mind (first impression and look comes first) but yet it is listed in no particular order.
What I mean by that is, the way we have listed the anemone themes in this post will not actually differentiate in terms of best or ugly.
We've actually followed the A-Z arrangement method so there won't be any confusion regarding which theme is the best.
Below is our recommendation on best Anemone themes you should try.
But before we start with the list of Anemone Themes,
How to install Anemone themes on iOS
Step 1: Open Cydia
Step 2: Tap Search and enter the name of the Anemone Theme you want to install
Step 3: Download any of the Anemone themes you like and tap Install.
Step 4: Enable and Apply downloaded themes from Anemone settings.
That's it. Enjoy and feel with the new look of your device with all these best anemone themes for your iPhone listed below.
Best Anemone Themes for iOS 10-10.2/11-11.3.1/12-12.1.2 [2020]
1. Ace El Cap
Price: $1.99
Repository: ZodTTD & MacCiti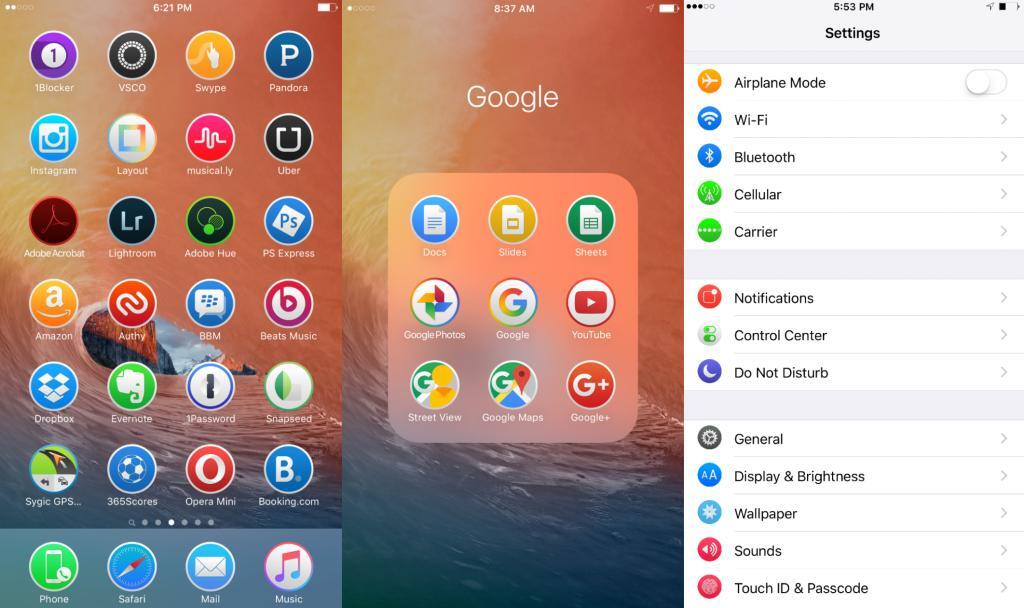 Bring OS X El Capitan to you iOS devices with wonderful design, over 250+ re-designed icon, Ace boot logo, New preferences icons and supporting iOS 9.
Ace El Cap is the iPhone version of the anemone theme and there's an iPad version also which you can find as Ace El Cap For iPad. This theme somehow gives me a feeling of using Android when I'm actually using an iPhone.
2. Amury
Price: $1.99
Repository: ZodTTD & MacCiti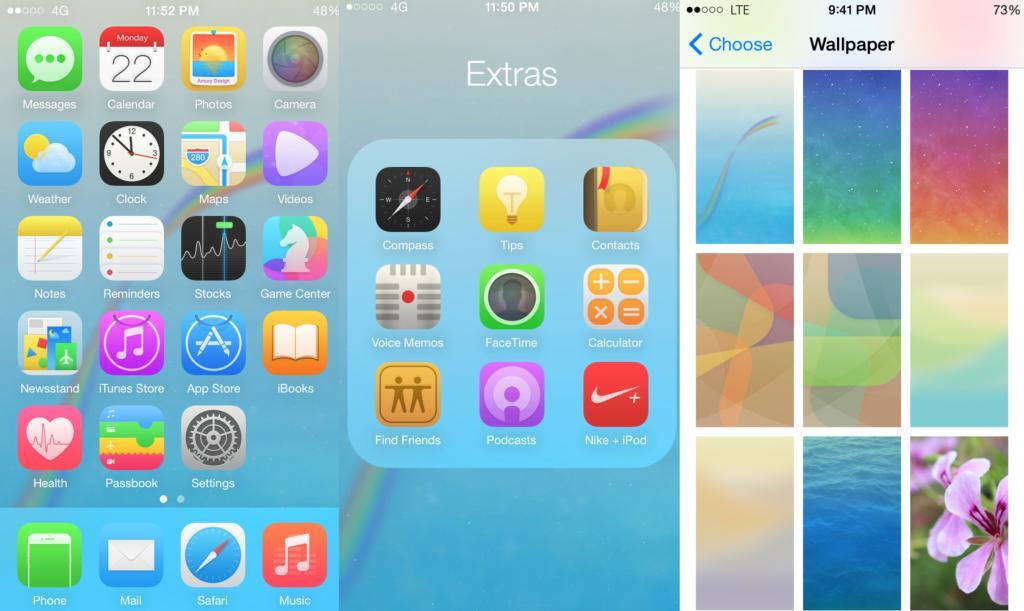 Amury brings your iOS experience to life, it is a promising theme that features 320+ icons, Settings Icons, Alternative Icons, Minor In-App theming, User Interface, UI Sounds, Control Center, Stunning Wallpapers, and much more.
It requires IconBundles and is compatible with iPod and iPhone devices for iOS 7 or iOS 8.
Amury is something that will capture your eyes at a glance with its astonishing wallpapers and its design.
3. Array
Price: $1.99
Repository: ZodTTD & MacCiti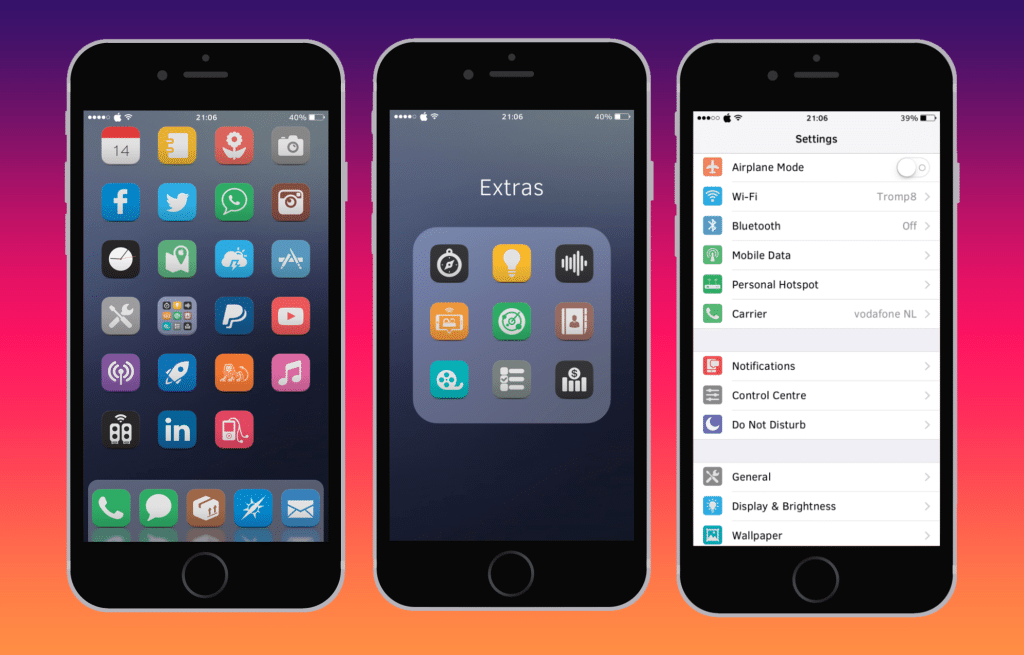 Array is a beautiful theme that contains 260 icons, icon mask, and much more. Works with all retina devices running iOS 9 or later and is compatible with Anemone and Winterboard.
Array is a beautiful theme developed by RubHil with a large collection of over 260 icons, icon mask and much more with a nice setting theme.
What good about this is it works on all retina devices that are running iOS 9 and later and is compatible with both Anemone and WinterBoard. Despite it works on both, we suggest using Anemone.
4. Aries
Price: $1.99
Repository: ZodTTD & MacCiti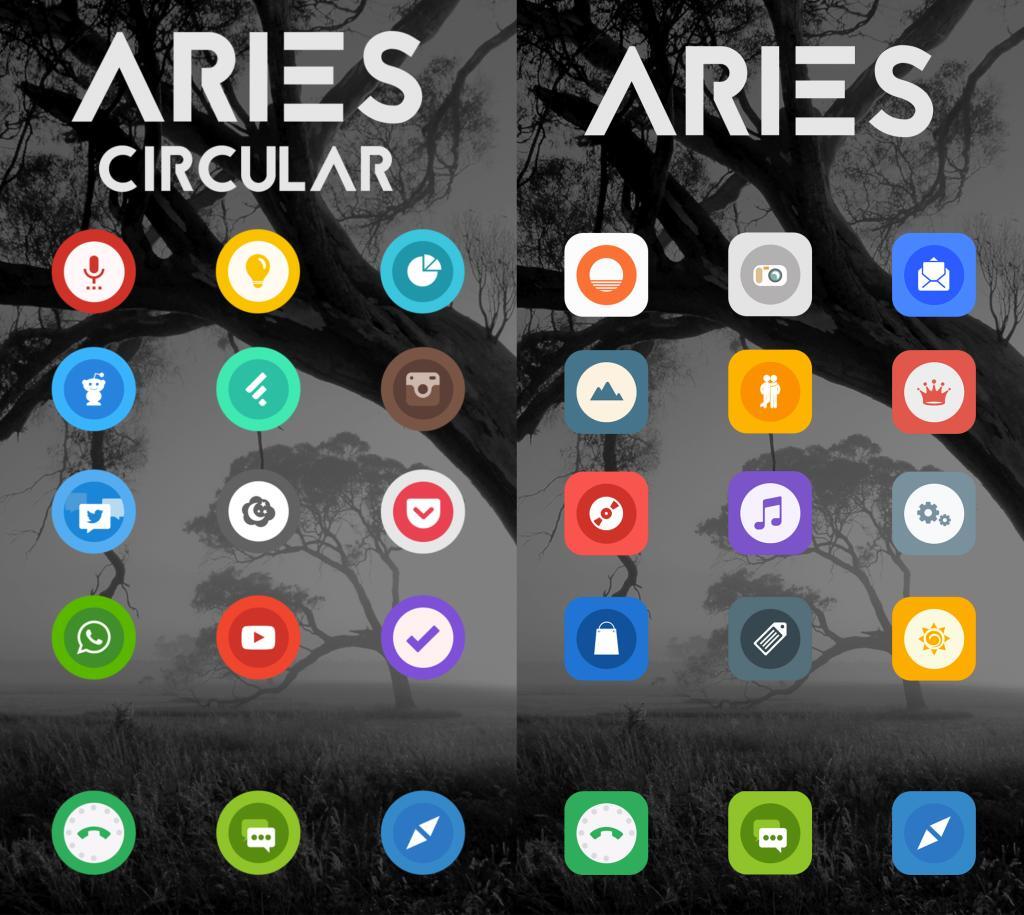 Aries has a simple theme, yet the icons are quite impressive. Despite Aries being simplistic, it gives users a good view with its cool circle icons.
As seen in the image, each icon is designed with a particular grid format. The output is icons that have calm tone color that will warm your eyes seeing those.
Aries supports iPhone 4 / 4S / 5 / 5s / 6 / 6 Plus.
Aries comes preloaded with all stock and countless third-party app icons, custom boot logo, circular mask, and more.
5. Aosemite
Price: Free
Repository: ZodTTD & MacCiti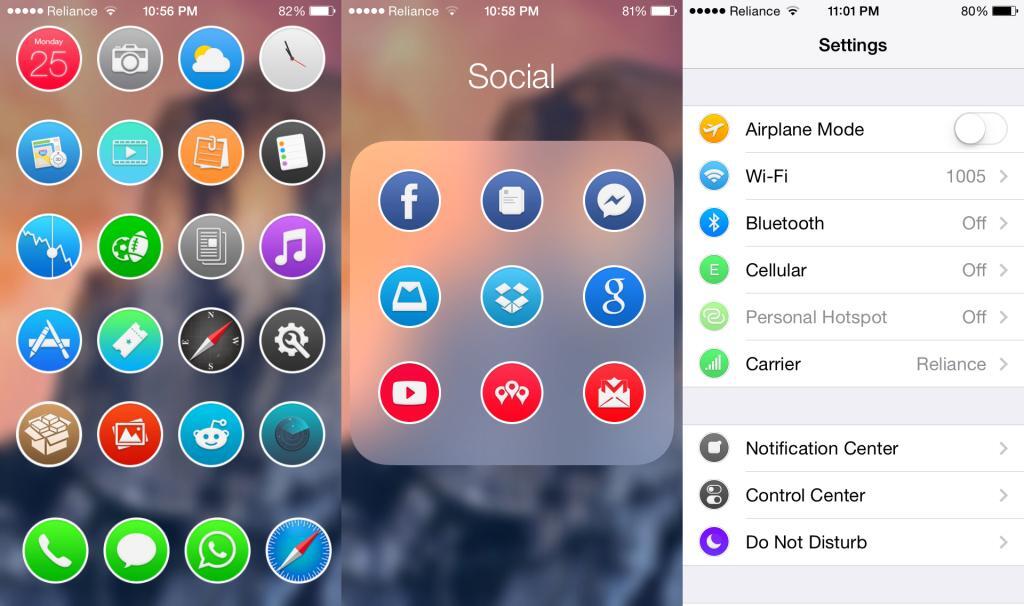 Aosemite has an elegant OSX Yosemite port for iOS with custom-designed icons that includes depth and an eye-catching look.
It has ported the Yosemite icons in a better way with over 175+ icons in elegant Yosemite style and settings preferences icons.
6. Acai
Price: $1.99
Repository: ZodTTD & MacCiti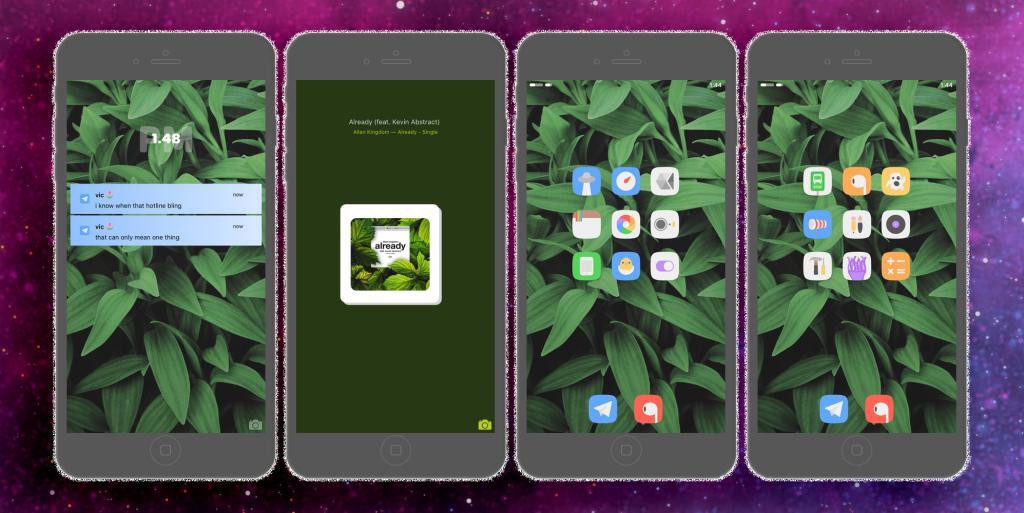 It has a clean, colorful and fun looking themes with hundreds of icons and clean UI.
You are not offered only these, there are also some plans for additional icons and more goodies to roll in the future.
The control center theme, wallpapers, signals, Wi-Fi themes, respiring logo are so attractive, looking it more will make you attached to Acai.
7. Blackie 3
Price: $2.99
Repository: Packix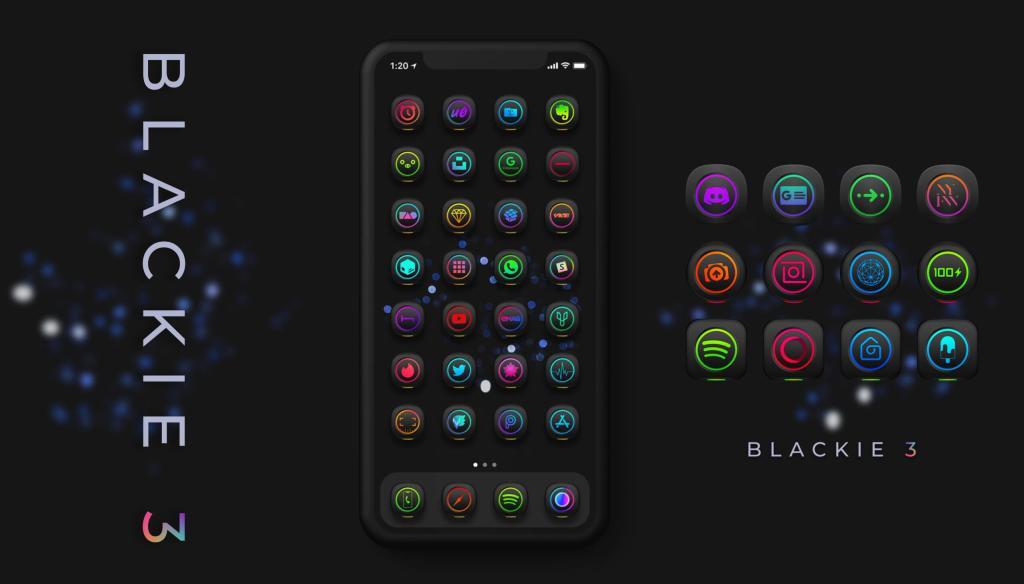 Blackie 3, as the name suggests brings a dark look for your device with is over 1000 icons, Alternative icons, a custom control center, custom badges, a custom status bar, custom, and a spiderman boot logo.
Blackie 3 is optimized for Anemone and doesn't support WinterBoard.
The theme is provided with three different styles: Circled, Squircled and Classic and gives you a classy feel. Future updates with more features and icons will come time and again.
The theme is compatible with iOS 7 or higher (iOS 12) and you can have options to configure it from the Anemone app.
In terms of look, there's no denying that Blackie 3 is certainly the best anemone theme among all others.
8. Enlightened iOS 9
Price: Free
Repository: ZodTTD & MacCiti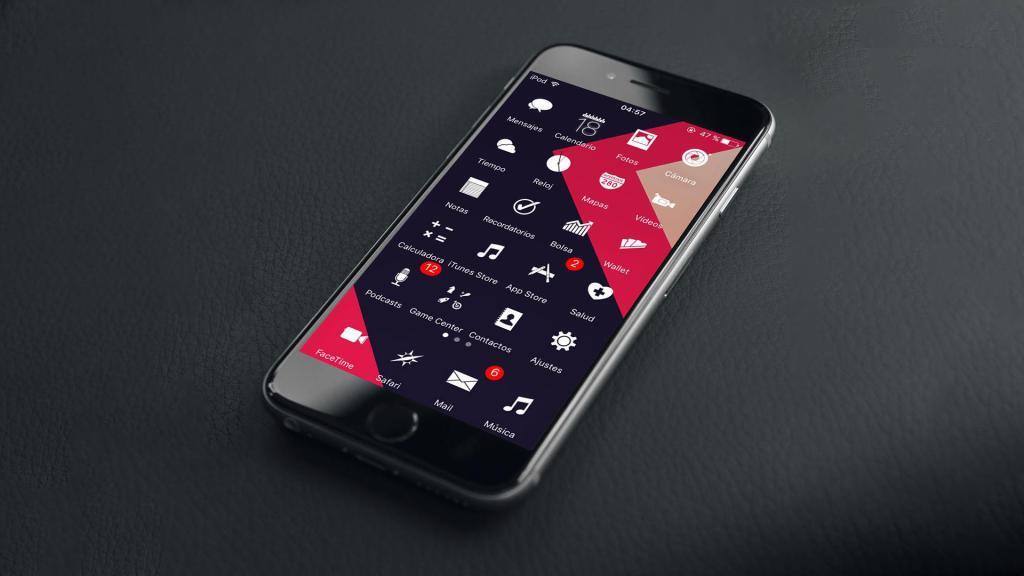 Enlightened is a new glyph based theme for iOS compatible with WinterBoard and Anemone.
This awesome theme includes some UI features like Badges, Folder Icons with light and dark theme suitable for both moods. It is certainly the best in context of best anemone themes.
9. Evolve
Price: $1.99
Repository: ZodTTD & MacCiti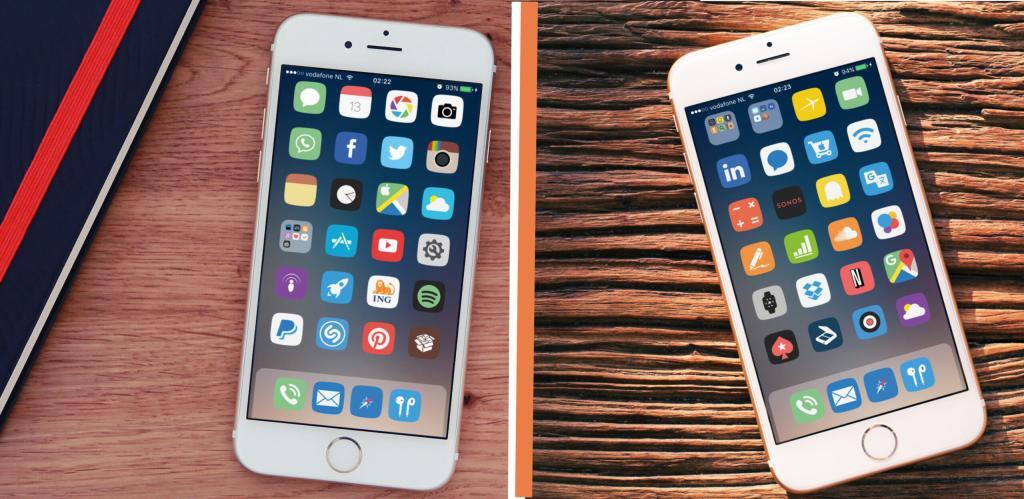 Evolve is a beautiful flat theme compatible with all retina iPhones, iPod touches, and iPads running on iOS 9 or higher.
Evolve theme gives a colorful, flat, and relaxing all at the same time. It will change the way you see iOS in a positive way.
The experience will be even better. This theme has 200+ Themed icons and a full Settings Theme.
Evolve supports both Anemone and WinterBoard but requires IconBundles.
10. iOS 9 Gradience
Price: $1.30
Repository: ZodTTD & MacCiti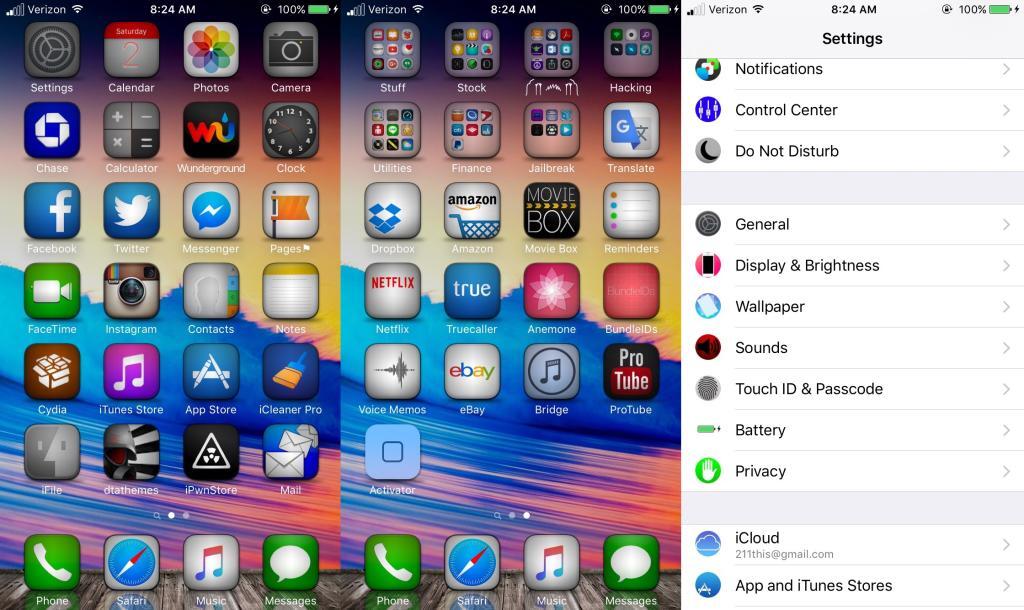 iOS 9 Gradience is a cool looking theme that gives you stock iOS 9 experience for your device.
iOS 9 Gradience is featured with two themes, Classic Blur Icons, Images, Signal Bar, and Settings app. It is actually a value for money anemone theme.
If you were looking for a gradience theme, this theme is probably the anemone theme you were looking for.
11. Indigo
Price: $2.49
Repository: ZodTTD & MacCiti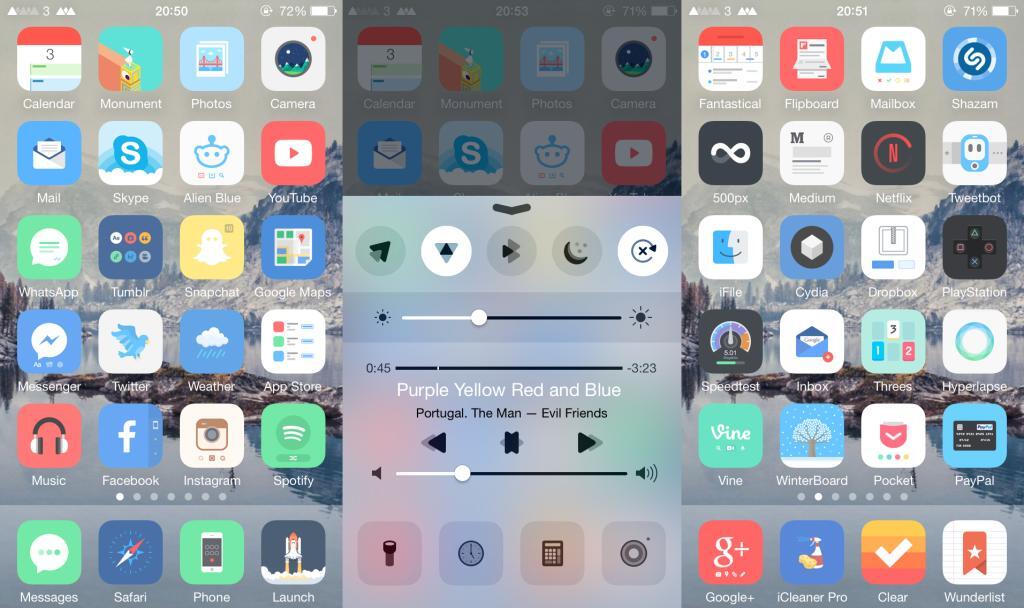 Indigo is a colorful flat theme that contains a unique style using an applications UI.
This theme includes 180+ icons, 20+ alt icons, Preference Icons, 2 Status Bar Themes, and 2 Control Center Themes.
There are separate add-on packages that include widgets and lock screens, message bubble themes, custom badges, and custom folder icons.
Indigo theme requires IconBundles to work.
This price is added perfectly for a theme like this one. What do you think about this anemone theme?
12. Jelly 3 Complete
Price: Free
Repository: ZodTTD & MacCiti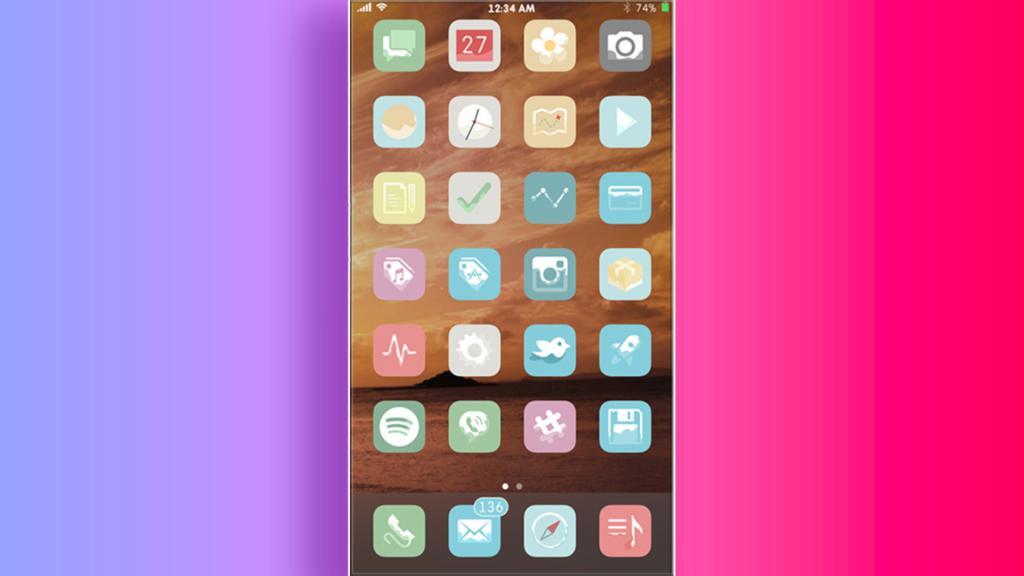 Jelly 3 Complete features 400+ icons, 3 icon styles, lock sounds, messages UI, Control Center UI, badges, 2 masks, and 11 custom-designed wallpapers and supports both WinterBoard and Anemone.
The three icons styles includes Jelly Main Icons, Jelly Glyphs and No Jelly Glyphs.
This theme is compatible with all iPhones and iPod Touches running iOS 9.0.2 or iOS 8.
Doesn't it look complete just looking at the image?
13. Lotus Revised
Price: Free
Repository: Twickd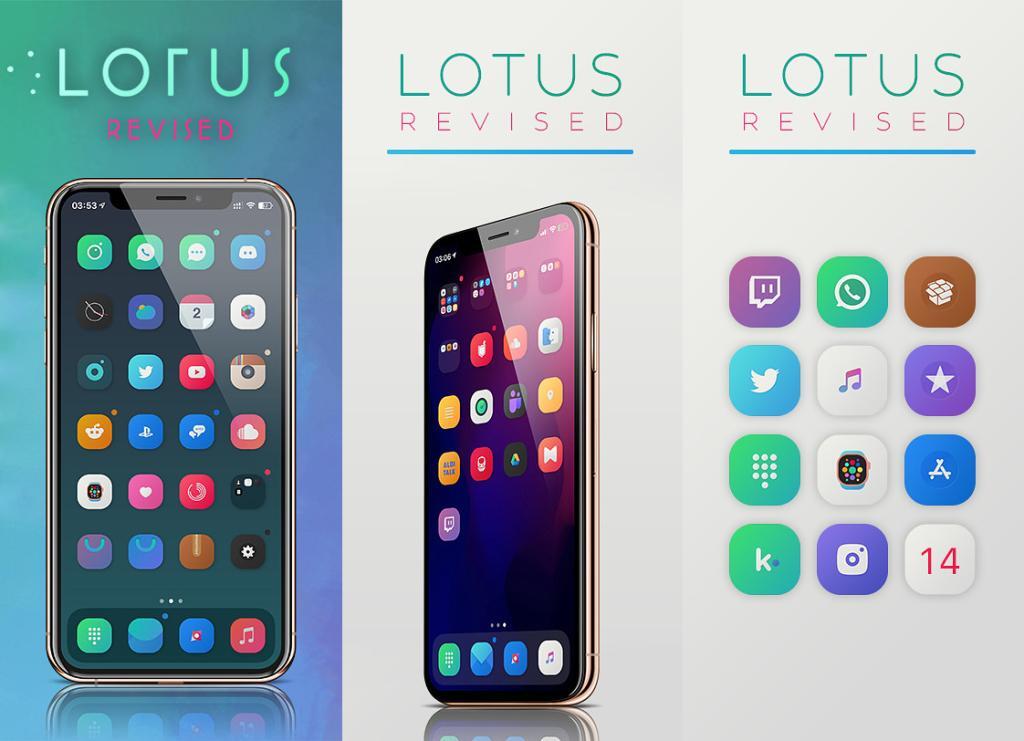 Lotus Revised is a free anemone theme with a gradient theme, a simple subtle theme revised that bursts vibrantly with its colors created by J3nRa1n.
It is an updated version of the original theme Lotus created by Haya.
It is a nice-looking theme created with an idea of different colors of a flower which can be organized by its transitioning effect from blue to green or red to yellow.
This version of revised Lotus adds new modernized icons for news apps and package managers.
Icons like Cydia, Instagram, and photos were modernized in this theme and also have a few icons for previously un-themed apps. It is free and I actually found this better than any other free anemone theme. It is also one of the best iOS 14 themes that you can install with SnowBoard.
14. Mint 3
Price: $3.00
Repository: Packix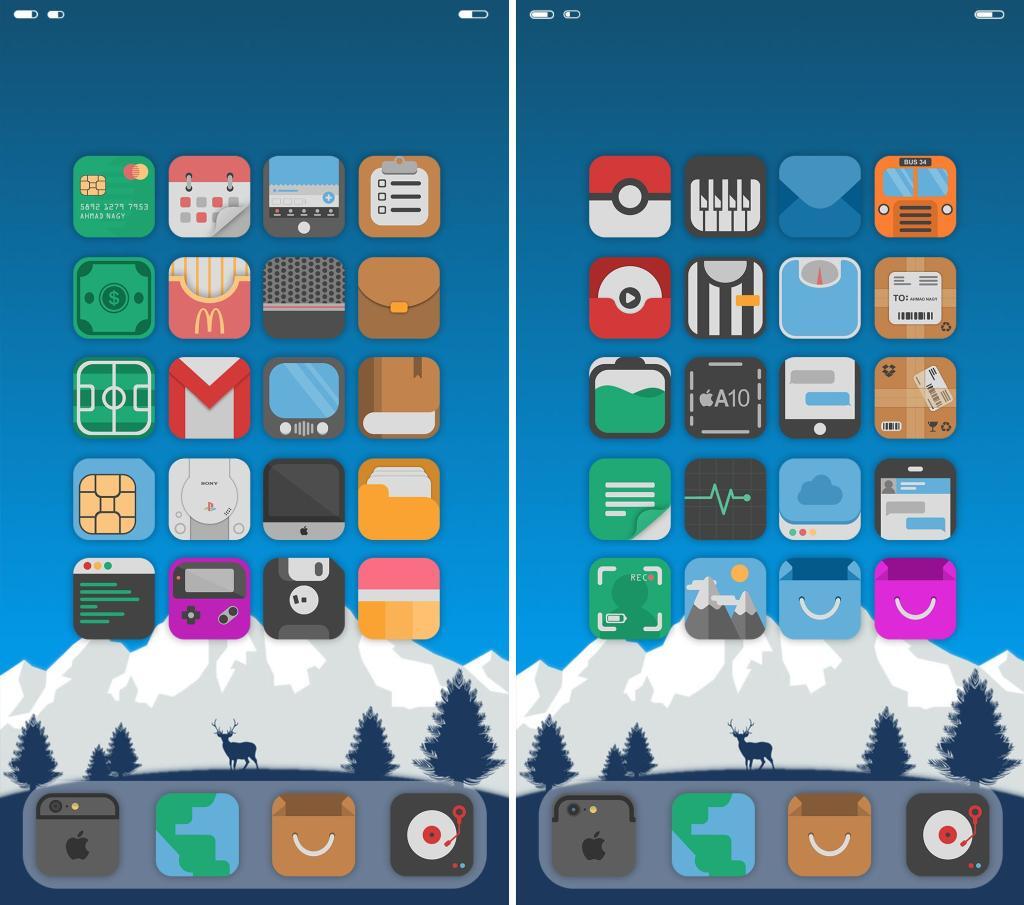 Mint 3 features about 290 icons, 50 alternate icons, a Dock Theme, 2 status bar themes, wallpaper, and a respiring logo that helps that a fresh take on flat design. It supports iOS 9.0 – 13.5.1.
Talking about the icons, it has got such a powerful icons, you'll definitely like theme for sure.
15. MIUI 8
Price: $1.99
Repository: ZodTTD & MacCiti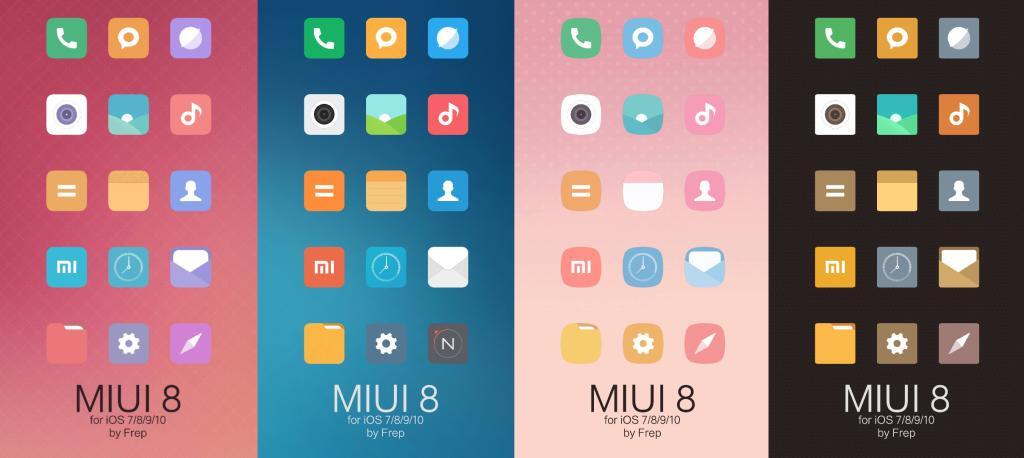 MIUI 8 for iOS 7/8/9/10 by Frep is a nice theme compatible with all iPhones, iPad, and iPod touch running iOS 7 or higher.
Personally, I am a MIUI fan. MIUI 11 icons are just enough to lure and is just amazing.
This theme includes five different icon sets like Default, High Life, Ocean Breeze, Pink Blush, Rose. Settings, Mail, Statusbar, Control Center, and more and more changes can be changes with the theme.
MIUI 8 also includes widgets and wallpapers. What more would you ever want at this price?
16. Muze 4
Price: $2.49
Repository: Packix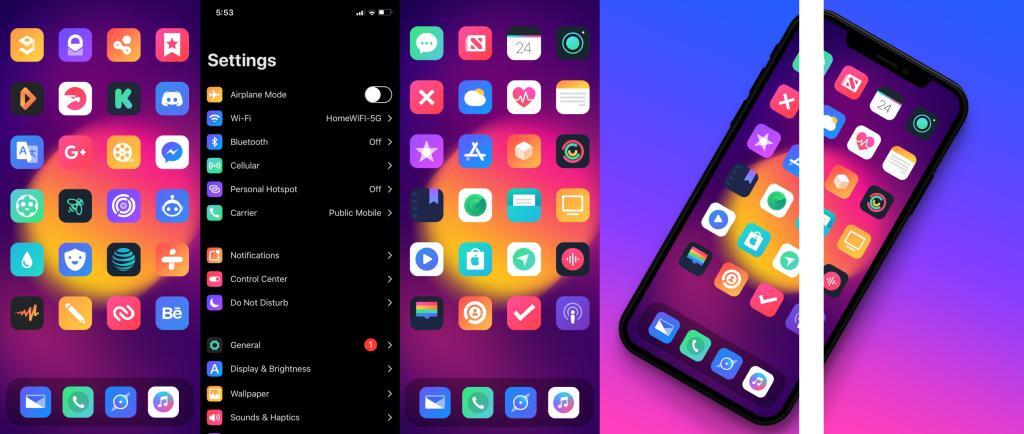 I personally found Muze 4 a great theme, it's so elegant and the icons are so amazing that I simply like it.
No words for Muze 4, it's amazingly best theme. I saw it once and I'm like this is the only theme I'd ever need.
Muze 4 is a clean icon theme that completely redefines your iOS experience.
It uses a wide range of stunning gradients that leaves you with a design you'll easily fall in love with.
It has over 700 icons including 300+ redesigned original icons, settings icons, and 400+ new and alternate icons. Muze 4 requires SnowBoard or Anemone to work!
It is alone enough to amuse you. This is why this is the best anemone theme.
17. Oyster
Price: Free
Repository: ZodTTD & MacCiti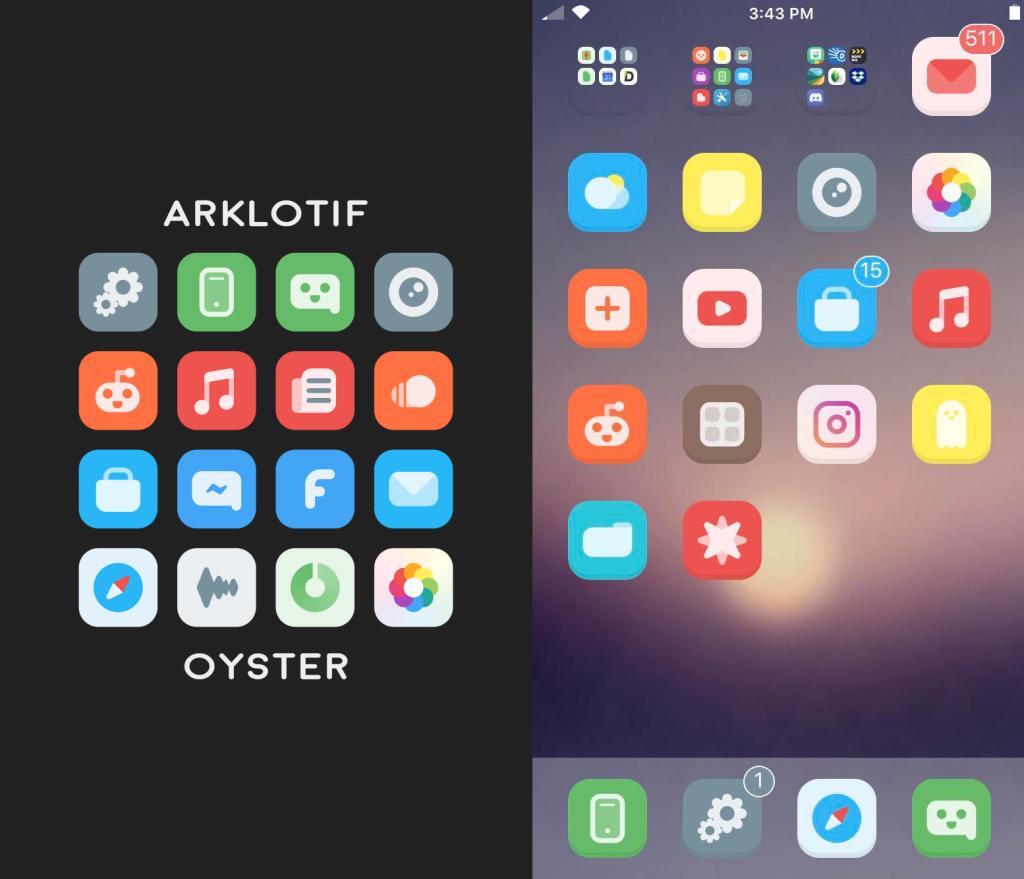 Oyster is a simple colorful theme with 85 icons and badges. It is actually attractive and feels nice while using.
It is one of those free anemone themes that I personally recommend you use. At least you can try it just once and see if it is really nice?
18. Pebbli
Price: $1.50
Repository: ZodTTD & MacCiti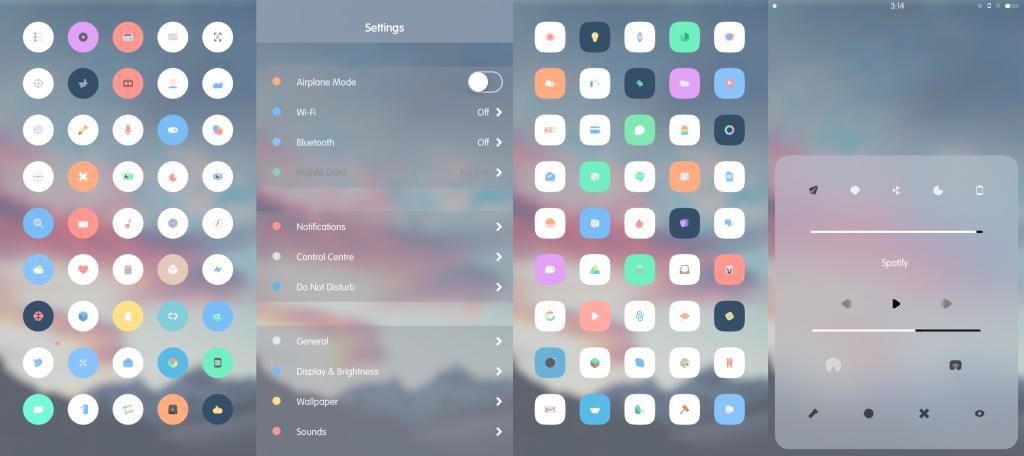 Compatible with all devices running Anemone 1.1-79 and up. Pebbli is a minimalistic and extraordinary theme that gives you a simplistic experience with small and concise icons. The theme contains much more than 140 icons, 2 Icon Masks, a Control Center theme, a status bar theme, a badge theme, a settings theme, and a boot logo.
19. PULSAR
Price: $2.99
Repository: Packix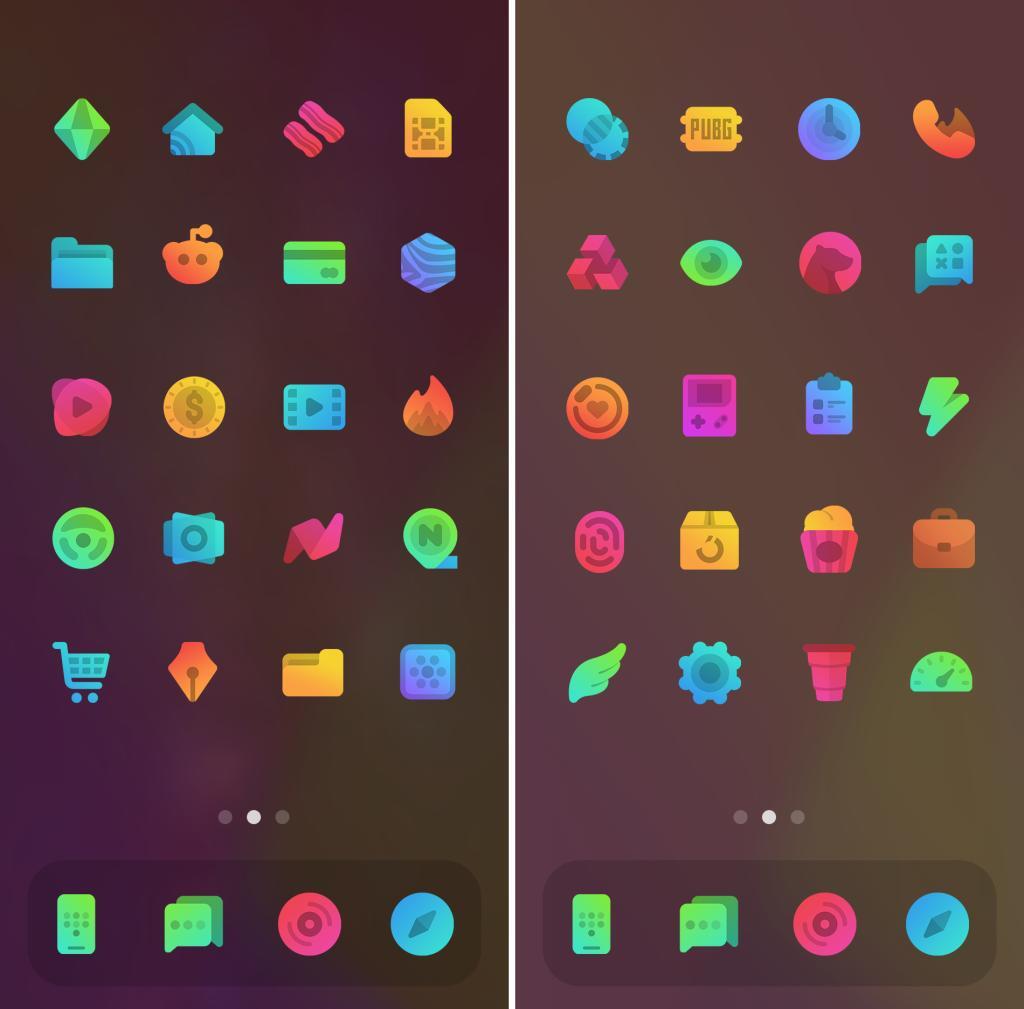 PULSAR comes with 400+ vibrant glyphs, Badges theme, 30 alternate glyphs, and Wallpapers. It has pretty mind-blowing icons, simple and colorful that you'll definitely like developed by LazyNagy, the same developer who made Mint 4.
Speaking about best anemone themes, this theme is definitely worth the shot and price.
20. Veexillum
Price: $2.49
Repository: ZodTTD & MacCiti

Veexillum has redefined how an iOS theme is. It defines simplicity, clarity, purity and variety.
It is a creative theme with about 1000 icons and many UI elements. Veexilum is an amusing theme that gives you a little proud moment that defines the true meaning of elegance.
Veexilum has the same price as any of the other anemone themes but I think this theme is definitely up to the mark and meets my expectation.
I bet you found your favorite theme after looking into this great list of best anemone themes for iOS 10-10.2/11-11.3.1/12-12.1.2. Enjoy your iPhone with a new look. If you know more anemone themes that you think should be on the list, please suggest to us in the comment section below.