The best rooting solution available today is Magisk, a well-known tool for acquiring root permission on Android devices. Basically, Magisk is the easiest and most trustworthy tool with the help of which anyone can gain root access on their Android. Simply put, Magisk is an Android utility that grants you systemless root on your Android smartphones.
Getting Magisk successfully installed involves and follows quite a number of steps and requirements. When installing Magisk root on your Android phone for the first time might utilize some of your brain and time as we have to set and follow few steps before stepping to the end result. Once you've Unlocked the Bootloader, even newbies like us can easily root any android device. We have a detailed section specifically on this for you to follow later in the article.
As for those who already rooted their device with SuperSU or KingRoot, I would like to tell you that it's the right time to change (I've already done this way back). You will further know as we go into more detail why Magisk is a more secure platform for root solutions than other solutions you have used before.
You are advised to take a serious note before making any changes to your devices by following this article since we will be working with the internal function of Android smartphones that can harm your device's software/hardware. Therefore, be in your perfect and cautious state and focus on understanding everything before entering the system setup.
There are many rooting apps available out there that help you in gaining root access on your Android device. SuperSU used to be the most popular way of gaining root access on Android but that has long gone since the development of Magisk. Performing advanced tweaks like flashing custom ROMs and Kernels, Overclocking, playing with the partitions is fun, but you need root access on your device to get them done This is where Magisk comes into play, and has already left SuperSU and other solutions far behind.
Magisk has become a go-to way of rooting android for quite some time now. Magisk makes managing root access and applying tweaks easy with its Magisk Manager app, and also helps to implement many features and functionalities with the various modules it provides. These modules help in improving the device's performance, graphics, battery life, and also help in adding advanced tweaks that can help you in improving the sound experience, changing the overall UI's appearance, and much more. We have a specific article on just this where we've listed a few of our favorites and most popular best magisk modules. Make sure to check them out too after you're done with flashing and setting up Magisk.
What is Magisk
Magisk is an entire framework with the help of which we can install custom modules that helps us take our Android to a whole new level. It is an open-source systemless root method that does not modify the /system partition. There are many modules that exist in Magisk that provides all sorts of modifications, such as cloaking, tweaking, and extend Android functionalities.
Magisk is arguably the best open-source solution for rooting Android. Magisk is a module-based application that offers a Systemless Interface that allows easy modification of our device i.e it doesn't actually change Android's system partition.
Once you've flashed Magisk and it's up, you can start installing the magisk modules you want and start exploring, modify your Android experience, tweak the design, and do a lot more with the Magisk Manager app.
Not only this, it is a secure method to root any Android while adding security as its best feature. The features it can provide are countless. One of the many features it provides is Magisk Hide that can hide the presence of root from selected apps thus not triggering the Google SafetyNet. Previously, the major problem with SuperSU was that it directly modifies the system partitions thus being unable to pass the newly released SafetyNet check mechanism. When SafetyNet check fails, it adds in an inability to run a number of apps like banking apps that require top-notch security.
This is where Magisk came into play as it helps you gain root permissions systemlessly on your Android smartphones meaning it won't make any changes to your device's system partitions. This helped in successfully passing Google's SafetyNet test. This is also one of the major reasons why Magisk is preferred more to root Android smartphones.
Learn more about Magisk and Systemless Root from this awesome video:
What are the advantages of Magisk
There are quite a lot of advantages in rooting your Android device with Magisk. Rooting Android with Magisk brings in a lot of benefits to the user including but not limited to bypass SafetyNet check, OTA Updates, ability to enjoy Magisk Modules that offer features such as removing unnecessary apps (Bloatware) that comes pre-installed on your device, AdBlock, Overal Device Improvement, and many more. A few of the advantages that Magisk brings to Android are:
Free and Opensource: Unlike SuperSU, anybody from any corner of the world can modify and make code changes to the software and tweak as per their requirement. Magisk is handier and developer-friendly out of the box and has additional premium class features that arrive at no cost.
Systemless root: You can carry out any system or vendor modification on your Android smartphone without tampering with the system partitions.
Modules Repository: Magisk is based on modules, which are applied to customize the interface and the modules inventory appears to be a more convenient option to modify and extend Android functionalities.
MagiskSU: You have the option to Grant or Deny the root privileges to any application
Magisk Manager: It gives users the ability to install new updates, add or delete the modules on your phone from within the app.
ByPass SafetyNet Check: Google's SafetyNet detects when the system has been tampered with and blocks certain apps from working properly and this can easily be bypassed with Magisk Hide.
OTA Updates: You can enjoy seamless OTA updates without any problem.
Magisk Changelog
v24.3
[General] Stop using getrandom syscall
[Zygisk] Update API to v3, adding new fields to AppSpecializeArgs
[App] Improve app repackaging installation workflow
Here's the Full Changelog
What is Magisk Manager
Magisk Manager is an app that acts as an interface for managing all the features provided by Magisk. It grants root permission to apps that require it, install, and manage various modules offered with Magisk that can blend with the Android system without playing with the partitions. Unrooting also becomes easy as this can easily be done from within the app. Magisk Manager is an absolute necessity for Magisk to work as it plays a significant role in making Magisk functional.
| | |
| --- | --- |
| App Name | Magisk |
| Last Updated | March 10, 2022 |
| App Size | 10.4 MB |
| Latest Version | 24.3 |
| Supported Android Version(s) | 5.0 and Higher |
| Developer | Topjohnwu |
| Total Downloads | 50 Million+ |
About Magisk Manager
What are Magisk Modules
All thanks to Magisk, it is easy for developers to develop modules that work with Magisk Manager in order to add more functionality to your Android device. Magisk Modules are tweaks designed by developers and third-party developers in order to add more functionality to your rooted device to get more out of the gadget.
Many of the Magisk modules are developed with the aim of customizing your device and adding various functionality to the device. There are a lot of magisk modules and you can find a lot of modules that can change the device's UI, help in managing user and system apps, custom emoji, change fonts, improve performance, Busy Box Installer, AdBlock, and many more. Installing a module is not at all difficult; all you need to do is just select the module and tap on install. Various modules can be downloaded from the official repository or at XDA.
Download Magisk Zip and Magisk Manager
The latest version of Magisk is v24.3 and you can download it from the official link below:
How to Install Magisk on Android
There are basically two methods to install Magisk on Android. If you already have TWRP Recovery flashed and running, you can flash Magisk APK or the ZIP file and get it installed without any hassle. All you have to do is download the latest version of Magisk from the link given below. As of Magisk v22.0, you can flash Magisk and install Magisk Manager from the same file i.e the same .APK file will act as an installable Android Package as well as a flashable ZIP.
Make sure that you have downloaded the latest Magisk Manager APK file.
There are several ways to install Magisk on your Android smartphone, and the one you go for depends on your device's current status. If your phone is not rooted, you can install Magisk and gain systemless root access on your device in one pass by using TWRP Recovery. If you don't have TWRP Recovery, you can either install the TWRP recovery or simply follow the second method which is by patching the stock boot image and then flash the modified boot image on your device.
You might find this interesting:Best Magisk Modules for Gaming in 2022
If your phone is already rooted using other tools like SuperSU or KingRoot and you want to use Magisk, you can simply unroot your phone, remove all existing root software, and then flash Magisk using TWRP Recovery or by Patching the Stock Boot Image.
First what you need to do is install the Magisk App (Magisk Manager).
Download the Magisk APK file from the download section above. (Don't forget its download location)
Install the .APK file you have downloaded (This step is optional, you can install the app after flashing Magisk as well).

After you've installed the Magisk app, you can flash Magisk with TWRP recovery or by patching the boot image.
1. Using TWRP Recovery
TWRP (TeamWin Recovery Project) is an open-source custom recovery image developed for Android devices that offers features and functionalities that the default Android recovery doesn't. The default Android Recovery only allows you to perform a Factory Reset, Wiping Data and cache, and some other minor tasks. You can perform far more advanced tasks with a custom recovery like TWRP Recovery such as flashing custom ROMs, Kernel, Custom Firmwares, changing Boot animation and Boot Logo, create Nandroid Backup, and do much more.
Before starting with the procedure, you need to have TWRP Recovery flashed in order to install Magisk. If you haven't already flashed TWRP Recovery, flash it now using this TWRP Recovery Installation Guide. Now that you successfully flashed TWRP Recovery and it's up, follow the below-given steps to proceed further.
Power off your device.
Press the Volume Down + Power Button to enter the recovery mode (The key combination can vary from device to device). You can also boot into recovery mode with ADB. Here's a tutorial on booting into recovery mode using ADB.
Once the TWRP Recovery screen shows up, tap on the Install button.

Navigate to the folder where the .APK file is present and Tap on it.

After tapping on the file, you'll be shown a toggle. Swipe to begin flashing the file and wait till the file has been flashed.

After the flashing completes, tap on the Reboot System button to reboot your device.


That's it! You have successfully flashed Magisk on your Android smartphone. Now you can enjoy systemless root on your device and begin flashing different magisk modules and tweak your device from the Magisk app.
Alternately, if you are using custom recoveries other than TWRP like OrangeFox, you can still follow the same process. Only the UI is different else all other functionalities and steps are relatively the same. Below is an image showing how you can flash Magisk with OrangeFox Recovery: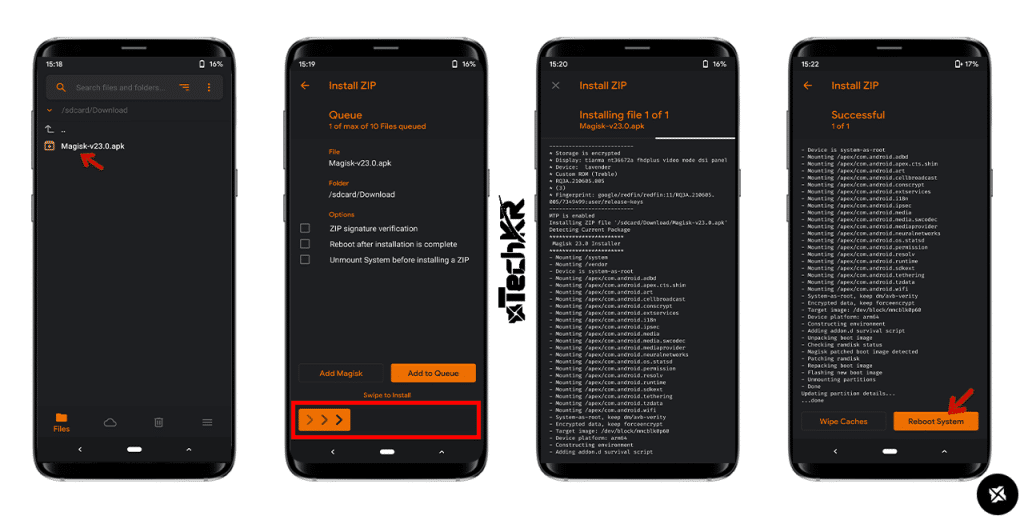 Magisk has now successfully been flashed on your Android device. If you haven't installed Magisk App till now, you'll need to install the Magisk App to enjoy all the features provided by Magisk. You can do so from the APK file or if you see the Magisk app with an Android icon or something that isn't related to Magisk and are connected to the internet, you can open the app and tap on the OK option to upgrade to full Magisk. It will download the Magisk app from GitHub and install it. You will have to allow Magisk to install the app from settings. Below is what you should do if you flashed Magisk without installing the Magisk app:
Locate the Magisk App from the App Drawer and open it.

It will show something that says 'Upgrade to full Magisk to finish the setup. Download and Install?'. Tap OK to continue.

Now it will say that you cannot install unknown apps from this source after it has downloaded the file. Tap on the Settings button and enable Allow from this source under Install unknown apps.

Press the back button if you aren't brought back to the installation steps. Tap on the Install button and wait few seconds for it to completely be installed.

You have successfully installed the Magisk app or say updated it!
Doing the above steps are kind of useless and has no benefit as you can install the app from the APK file we had downloaded earlier. Doing so will only download the file again and install it. Also, it will not work if you have no internet connection. It's better if you follow the following steps (They were mentioned earlier in the article as well)
Install the .APK file you had earlier (The same one that you used while flashing via TWRP Recovery)
Once your phone reboots, open the Magisk Manager and confirm that the installation was successful.
Now, if you wish to uninstall Magisk for any reason, the steps below will assist you in doing so. The most certain way to do this is via the Magisk Manager app itself. Before you uninstall Magisk, make sure to disable and remove all the modules.
How to Verify if Your Phone Has Systemless Root
Launch the Magisk App.
To verify that you have successfully installed systemless root with Magisk or not, first enable MagiskHide. To do so, tap on the Settings icon located at the top right of the screen. Then scroll down to the Magisk section, then tap on the toggle on the right of something that says MagiskHide.

Then come back to the home screen of the Magisk app. Then tap Check SafetyNet button and follow what it instructs. At the final stage, if you see something saying 'Success!' with a check mark on basicIntegrity and ctsProfile, congratulations you have successfully rooted and bypassed SafetyNet and now the systemless configuration is under your fingertips.

If yes, then that means you can experience a systemless configuration under your fingertips.
If you don't enable the MagiskHide option, it is most likely the SafetyNet check will fail and show you an error that says 'Attestation failed' or something similar.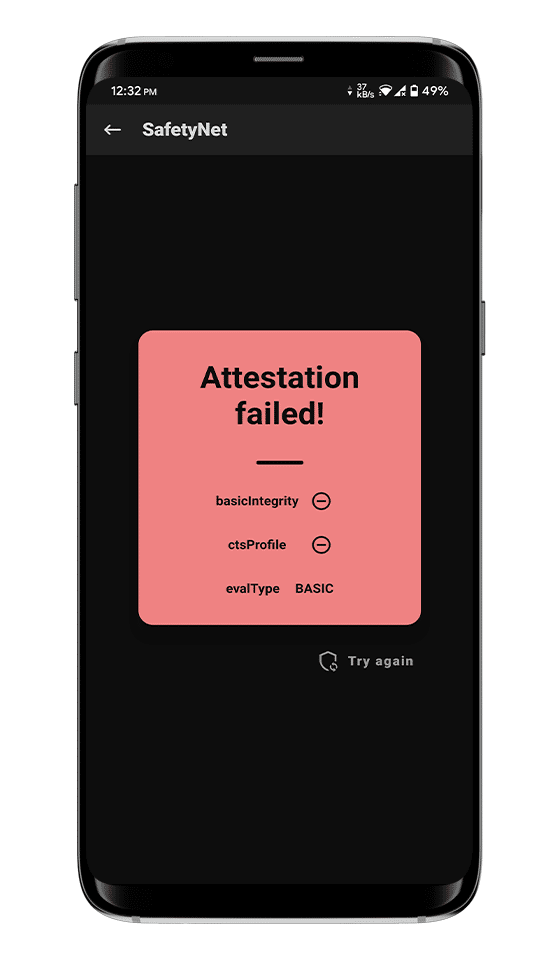 How to Uninstall Magisk and Unroot your Android device
Open the Magisk app on your phone. On the middle of the screen, you can see a button that says 'Uninstall Magisk', tap on it.

A box will appear saying 'All modules will be disabled/removed!', select the 'Complete Uninstall' option to completely remove Magisk from the system.

Then Magisk starts its uninstallation process. It will uninstall itself and your device will restart a few seconds after the Magisk Uninstaller has successfully removed Magisk files.

Magisk will get completely removed and you will not find the Magisk App installed after the device restarts.
More about Magisk (F.A.Q)
Have doubts regarding Magisk? We have answered several questions that people generally ask:
What is Magisk?
Magisk is a module-based application that offers a Systemless Interface that allows easy modification of our device i.e it doesn't actually change Android's /system partition. It is arguably the best open-source solution for rooting Android. It is an entire framework that opens up a whole new world for customization and features. It is the easiest and most trustworthy tool with the help of which anyone can gain root access on their Android.
What is MagiskHide?
MagiskHide is one of the revolutionary features of Magisk that allows you to hide root status from certain apps such as banking apps, and games like Pokémon GO.
Is Magisk Risk-Free?
Magisk is totally safe and risk-free and is also the most popular rooting service recommended by the developer communities over and over. Downloading and installing Magisk does not put the integrity of your phone at risk as it doesn't bend or modify system files You don't need to worry about it since it's a secure, compatible, and trustworthy platform.
Is Magisk free of cost?
You don't need to pay anything to start using Magisk. You didn't need to pay any kind of money. Magisk is handier and developer-friendly out of the box and has additional premium class features that arrive at no cost.
What can Magisk do?
Magisk is an Android utility that grants you systemless root on your Android smartphones. Its rooting solution provides a secured systemless platform that makes maintaining root permission easier and also hides root status from any app. It also offers loads of modules with which we can customize, modify and add more features to our Android device. Moreover, you can enjoy seamless OTA updates without any problem.