How to get Endeavor Mod Menu for Grand Theft Auto V? Do you want to get a MOD Menu for your GTA V and give your game a new level? Well, we will help you with modding GTA 5 with a simple and easy tutorial. Endeavor is actually the safest and best free GTA 5 MOD menu ever and we are here with a working method.
The process of installing the Endeavor Mod Menu is quite subtle and easy. All you need is the Endeavor Mod Menu installation files, GTA 5 installed, and follow the instructions provided by us below.
But before we start,
What is Endeavor Mod Menu?
Endeavor Mod Menu has recently released a mod for GTA 5. This GTA 5 Mod allows users to get cheats and mods while playing the game. If gamers use this GTA V mod, then they will get a menu list of various mods which they can then use while playing GTA 5. It will help gamers very much while playing GTA V. With this GTA 5 Mod, we can easily type cheats, change weapons, and get other mods too.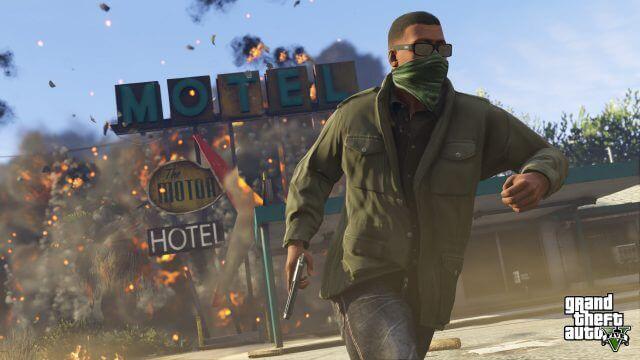 Endeavor Mod Menu – Changes in v1.2
Removed access to the stats menu
Categorized vehicle spawner (Cool, right?)
Added RPM multiplier
Added temporary speedo until we can texture edit
Added car jumper
Added controller support for Windows 7 (Question for you, do you do gaming in Windows 7?)
Added drawable rockstar logo
Added physics gun
Changed notification to in-game notification
Added a .ini file so you can easily customize the controls
Added keyboard for custom inputs
Added police uniform
Added Santa clothes
Added elf clothes
Added snowman clothes
Added apparel editor
Key features:
Shoot 4k cash bags out of a gun
Give all weapons
Spawn any car including heist vehicles
No lag while teleporting
No cops
Max stats (driving, shooting, strength, stamina, etc)
Box ESP
Drive on water
No ragdoll
Is Endeavor the Best GTA 5 MOD Menu?
Without a doubt, Endeavor is the best MOD Menu for GTA 5. It is the most enhanced Mod Menu which you should really try using for GTA V.
We have a full guide on installing Endeavor Mod Menu on your GTA V. Keep following us to get the Mod Menu added.
Download Endeavor MOD Menu 1.2 for GTA 5:
Click on the link below to download GTA 5 Endeavor Mod Menu for free.
How to install Endeavor Mod Menu
Step-by-step installation of Endeavor Mod Menu for GTA 5
Download Endeavor MOD Menu 1.2 from the link given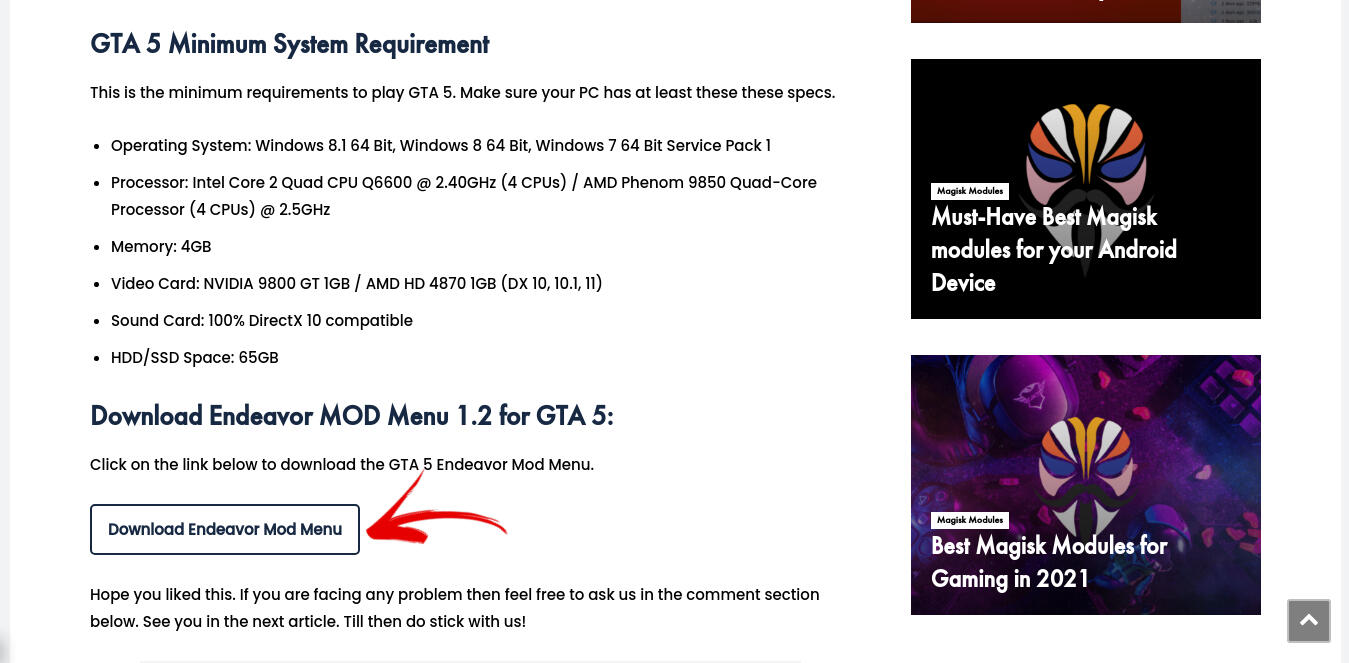 First, get Endeavor MOD Menu 1.2 for GTA 5 from the download link given above. Nothing fancy here.
Copy ScriptHookV.dll and Endeavor.asi to the game's main folder.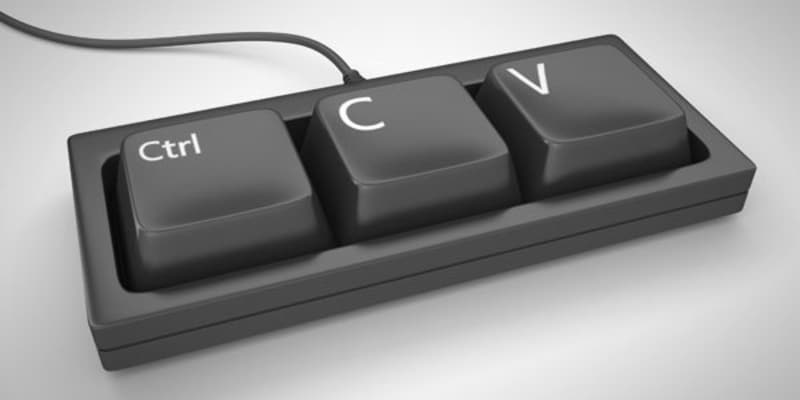 All you have to do is copy ScriptHookV.dll and Endeavor.asi to the GTA 5's main folder, i.e. where GTA5.exe is located. Usually, it is located inside Local Disk C:\Program Files
Just go to the download location where you downloaded the Endeavor Mod Menu file. Unzip the file, copy the contents inside the obtained folder, navigation to C:\Program Files\Rockstar Games\Grand Theft Auto V\ and paste them there. It's just simple as that.
Open Grand Theft Auto Five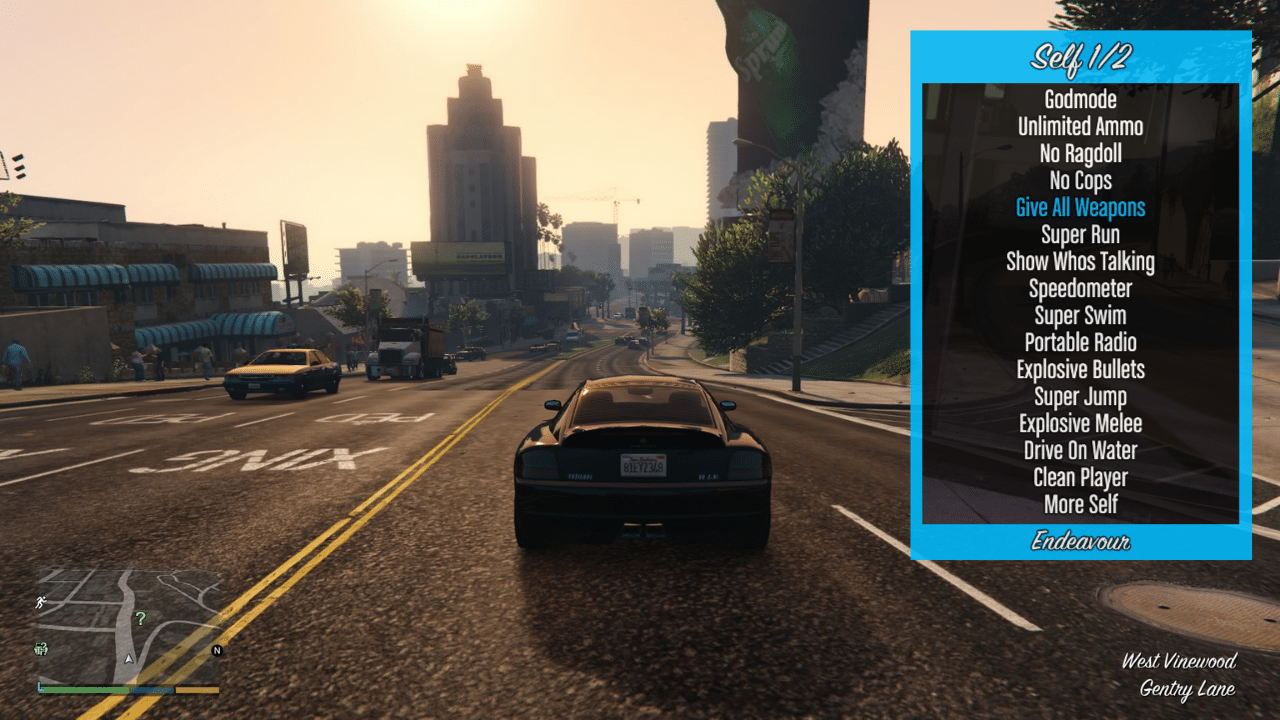 Open Grand Theft Auto Five and you can now you will be able to use Endeavor Mod Menu.
In order to load as plugins you need to have ASI Loader installed, you can download it separately or use the latest version that comes with this dsound.dll.
GTA 5 Minimum System Requirement
These are the minimum requirements to play GTA 5. Make sure your PC has at least these specs for a smooth gaming experience.
Operating System: Windows 8.1 64 Bit, Windows 8 64 Bit, Windows 7 64 Bit Service Pack 1
Processor: Intel Core 2 Quad CPU Q6600 @ 2.40GHz (4 CPUs) / AMD Phenom 9850 Quad-Core Processor (4 CPUs) @ 2.5GHz
Memory: 4GB
Video Card: NVIDIA 9800 GT 1GB / AMD HD 4870 1GB (DX 10, 10.1, 11)
Sound Card: 100% DirectX 10 compatible
HDD/SSD Space: 65GB
---
Hope you liked this. If you face any problem, feel free to ask us in the comment section below. See you in the next article. Till then do stick with us!