If you have reached here, you must be seeking a tutorial on How to repair a corrupted Pen Drive or SD Card easily? We can easily Fix or Repair a Pen Drive or SD card that's Broken or Not Recognized quickly.
Today in this technical world, everything is based on data transfer and information exchange. Portable devices are very important to us. We can easily transfer our data and information through portable storage devices like Memory Card, Pen Drive and external Hard Drives. Sometimes due to viruses or improper ejection of these devices or because of any other problems prompts our devices to get corrupted and windows can't format it correctly. So, this article is on how to repair your corrupted Memory Card or other portable devices with some simple tricks. With this process, you can easily fix your drive and can use it.
Here in this trick, I will use Command Prompt (CMD) and other tricks to fix any corrupted Pen Drive or SD Card. It is a destructive process as all your information will get formatted. All your data and information present inside it will get lost. But for this process, you don't need to download any software or buy anything. In this tutorial, I will be using a corrupted Pen Drive of 8 GB. It shows 22.0 KB free of 684 KB though it's of 8 GB after plugging it into my computer.
Repair a corrupted Pen Drive or SD Card with CMD
Step 1:
First, connect your Memory Card or Pen Drive or Hard Drive to your PC. Here in my case, it shows a Pen Drive of size 684 KB but it's actually of 8 GB.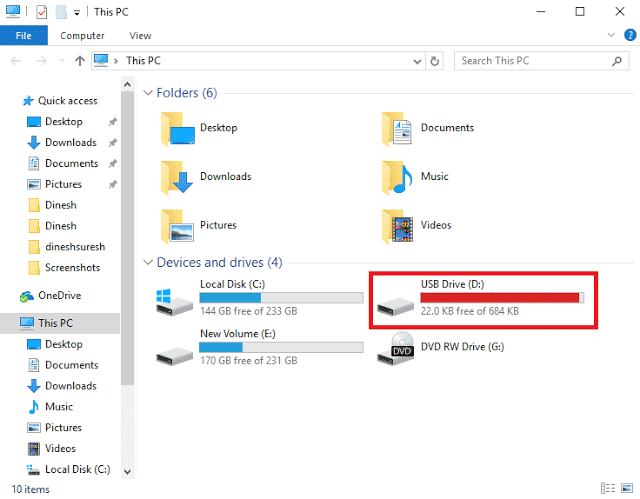 Step 2:

Now you have to open Diskpart. Simply press Windows Key + R button. A run console will open. Then type in diskpart and hit enter. Allow Administrative access if it asks for it by pressing Yes.
Step 3:
Now, after DISKPART has opened, type in list disk. This will show all the storage devices like Memory Card, Pen Drive and others. Now, note the Disk number of the storage device which is corrupted and which you want to get it fixed. Here it shows my Pen Drive which is of 7695 MB in Size.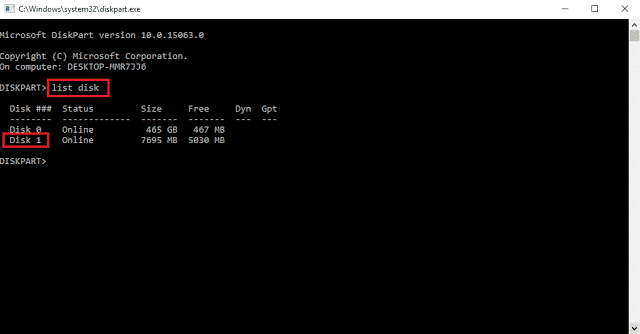 Step 4:
Then type select disk [No. of your disk which you want to get it fixed] and hit enter.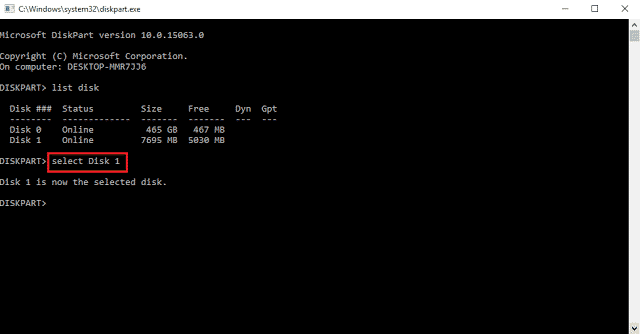 Step 5:
Then type clean. It will clean your storage device.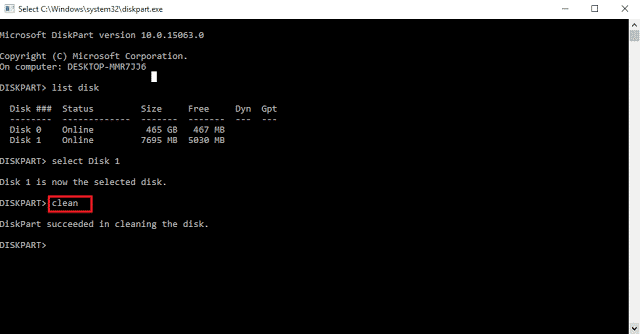 Step 6:
Then, type create partition primary and hit enter.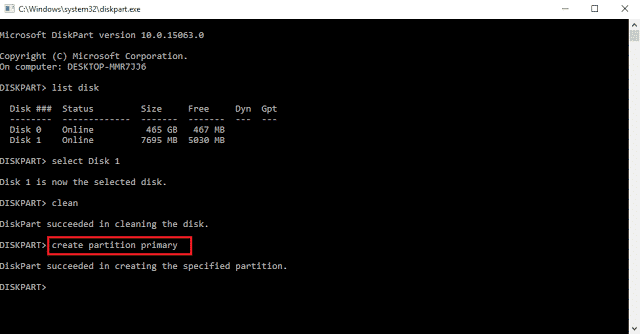 Step 7:
After creating a partition, type active. Typing active is not mandatory. You can directly skip to the 8th step.
Step 8:
Now type select partition 1.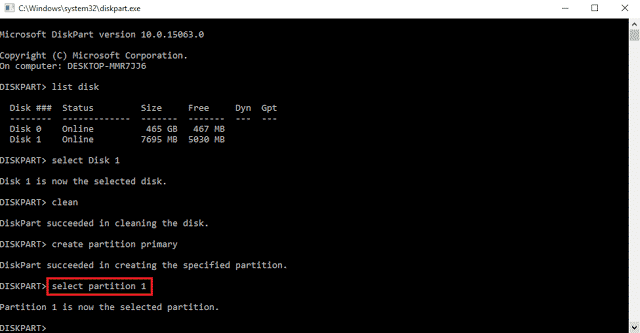 Step 9:
After selecting the partition, we have to format the storage device. Type format fs=fat32 quick and hit enter.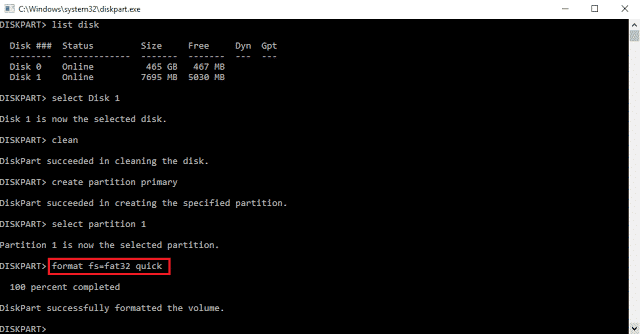 Step 10:
Now your storage device has been formattedsuccessfully and is ready to use. Now you can simply type exit to leave DISKPART.
Now after following all these steps, you will surely get your Pen Drive or any other storage devices fixed. We can use DISKPART to fix our storage devices. After following all these steps, I got my PenDrive fixed. Now it shows 7.49 GB unlike in the beginning.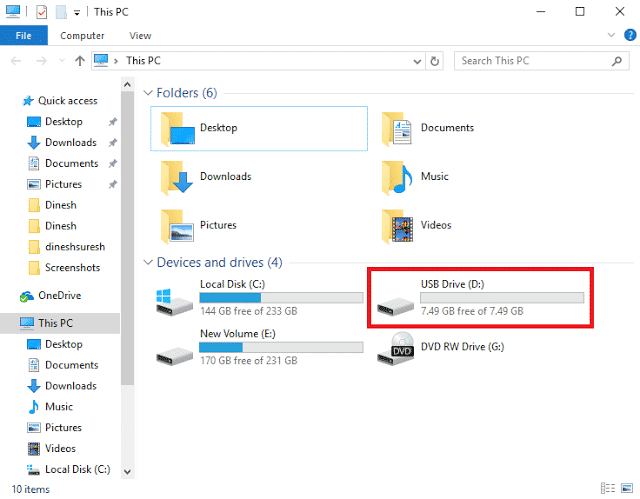 Repair a corrupted Pen Drive or SD Card by changing Drive Letter
Step 1:
Connect the Pen Drive or SD Card that is broken into your computer.
Step 2:
Right click on your computers This PC and click Manage from the drop down menu.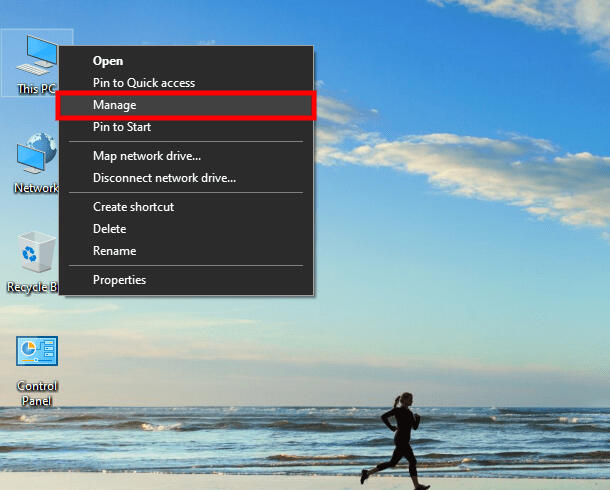 Step 3:
Click Disk Management
Step 4:
Right click on the storage media (that you want to get fixed) and click Change Drive Letter and Paths
Step 5:
A window will open which says Allow access to this volume by using the following drive letter and paths. An existing Drive Letter will be shown and highlighted in blue. If not tap on the Drive Letter and click on Change
Step 6:
A new window will pop up which says Enter a new drive letter or path for (Drive Letter). Chose the drop-down menu beside an option that says Assign the following drive letter. Choose any drive letter and hit OK
Hope you liked this. Stay tuned to get to know about more new updates. See you in the next article!