Downloading files with a pretty larger size must not be an issue today due to the fast internet connectivity that has been available with development in technology. In such a case, how can we compress files online before downloading them?
Compress Files Online Before Downloading
If you don't have a stable or a fast connection and face download problems, you probably would want to compress files before downloading.
What I mean by compressing files online before downloading is that you first download the required file on a server (third party)
What this third-party server does is, it downloads the files on their servers.
Meaning they'll use their server to download the files to their server. This will probably be fast for them since they are a professional company and have high-speed internet connectivity.
Now what happens here is, after the file you want is downloaded on their server, they'll compress using some mechanism.
After they successfully compress the file, you can download the small-sized file onto your system.
How is this effective? Well, you can download the compressed file that is smaller in size onto your system.
This results in low data consumption since the data transferred will be small. Another plus point will be the download time. Since the file size is small, it will significantly take less time to download as compared to the original non-compressed file.
If the service you use to do this happened to use a CDN, then files will be served from the data centers located near you. This results in a faster connection since the latency will get reduced.
So, in this tutorial, I'm gonna talk about compressing files online before downloading. It is a really simple process. By doing this you can save a lot of data. You can also compress files from Google Drive or any other storage related to cloud storage.
The site mentioned here is the best legit site for this process. No need to worry about the Virus or any other harm. It's totally safe.
Basically, Cloud Convert downloads and store the file you want to download to their server. Then it compresses the file to an archive format you chose such as 7Z, ZIP, TAR, and more. CloudConvert supports the conversion of 500+ formats. After that, it provides you the link to the compressed file or can also transfer the compressed file to your google drive or any other supported cloud storage. And now you will have the same file in a smaller size. Great, isn't it?
In this way, you can save a lot of time and your internet data.
The best part is that you can convert almost any file. You can compress video online and reduce compress large files to small size online
How to Compress Files Online before Downloading it
Step 1: Get and copy the download link of the file you want to download. For example, if you want to download a game. Go to your preferred site and get the download link of the movie you want to download. Then copy the download link present on the website for downloading the movie.
Step 2: Now, go to CloudConvert's Create ZIP Archive page and keep following us.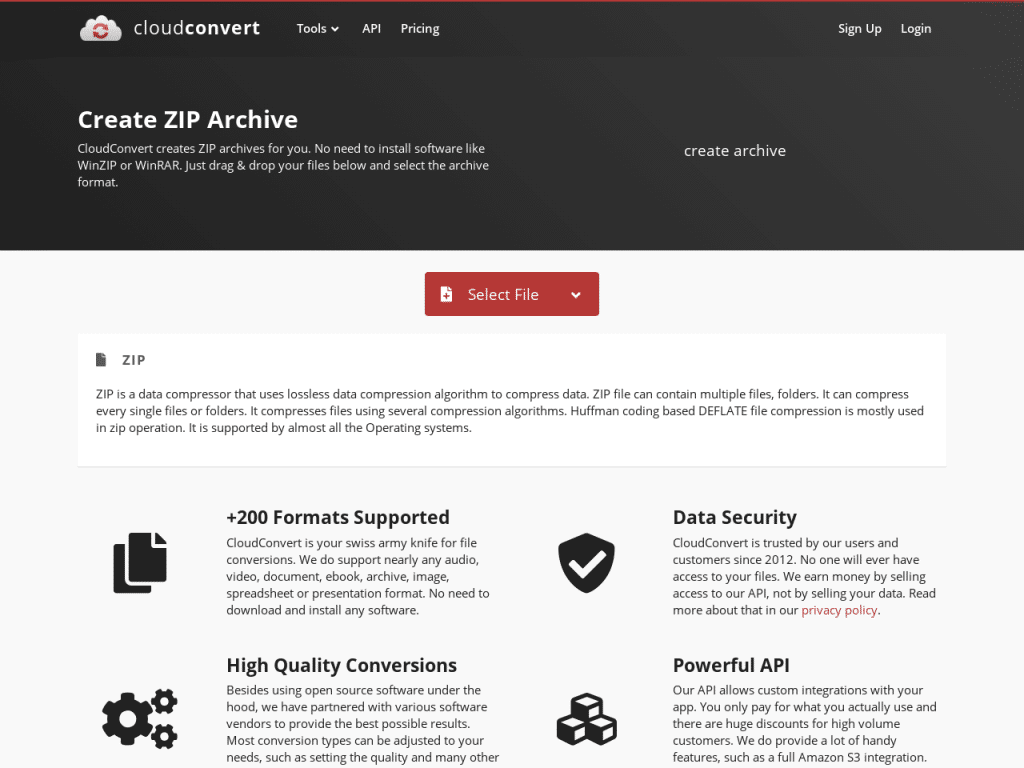 We suggest you not use proxy browsers. Instead use a modern browser like Chrome, Brave, Firefox, or any other for extended compatibility and flawless experience. If you are on a mobile device, don't use any proxy browsers such as Opera Mini, UC Browser as such browsers are not compatible.
Now you are on CloudConvert's page, you can see a basic overview of what CloudConvert is and what it actually does.
It is an online file converter and they support nearly any audio, video, document, E-book, archive, images, spreadsheets, presentation, and 200+ more formats.
It is secured, trusted, and provides high-quality conversions.
Now moving forward with compressing online and downloading, click on the little drop-down arrow, you'll see a bunch of options to get started.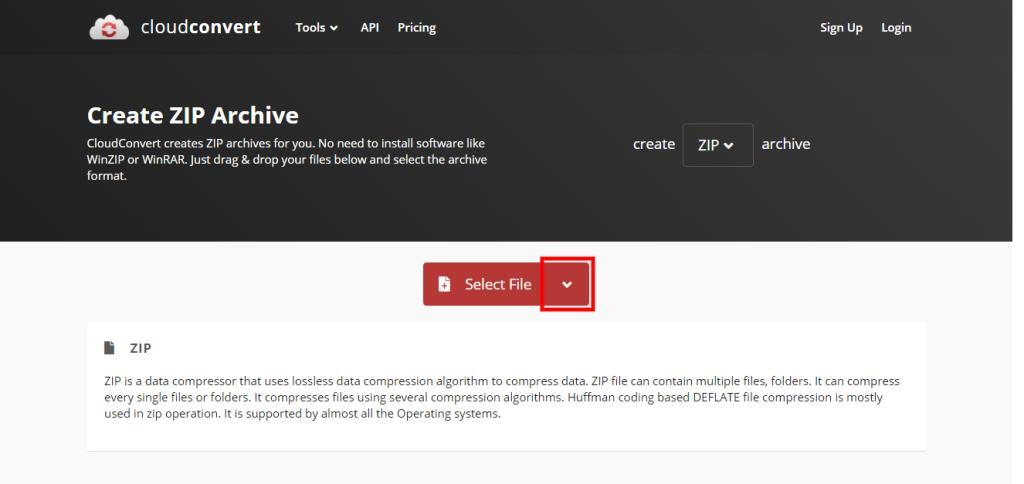 From those five options they provide, we'll actually use only one option since we've not downloaded the file we want, we want to first compress the file online with cloud and then download the high-quality converted file on our system.
Step 3: Click on the By URL option from the drop-down menu.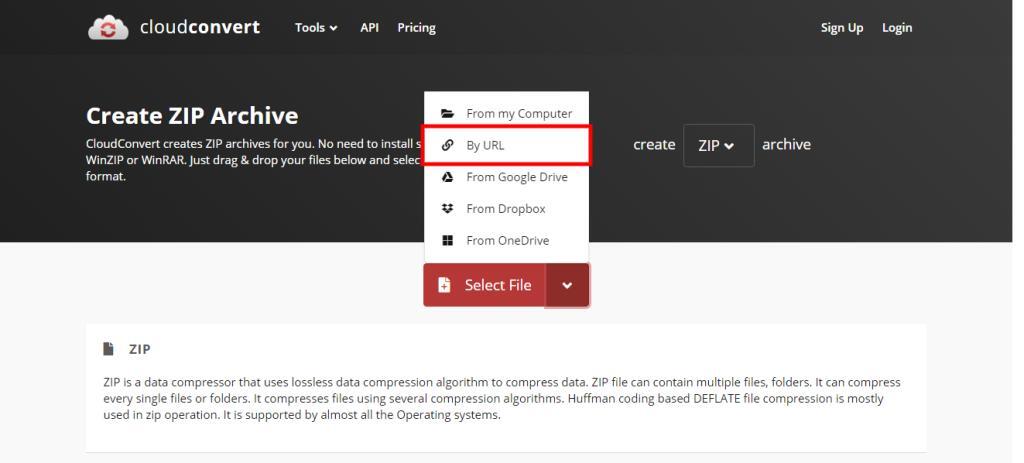 Depending on the situation, you might want to Select Files from Google Drive, Dropbox, or OneDrive. You might want to use them when someone has shared a file with you on any of those cloud storage. Here, as we want to download files not hosted there, we'll choose Select File >> By URL
Let's see what other options do and in what cases we might want to use them.
Choose From my Computer when the file you want to compress is saved on your system. It lets you compress a file from your device and later save the compressed file to Google Drive, OneDrive, and Dropbox. With this, you can easily share your compressed files with other users you want so they can download the compressed files.
Choose Google Drive if you want to choose a file from your Google Drive cloud storage and compress it online. With this, you have to grant CloudConvert permission to access your Google Drive.
Choose From Dropbox if you want to choose a file from your Dropbox account and compress it online. With this also, you have to grant CloudConvert permission to access your Dropbox
Choose From One Drive if you want to choose a file that is on your One Drive and compress it online. You have to grant CloudConvert permission to access your One Drive as well.
Step 4: Paste the download link and click Add.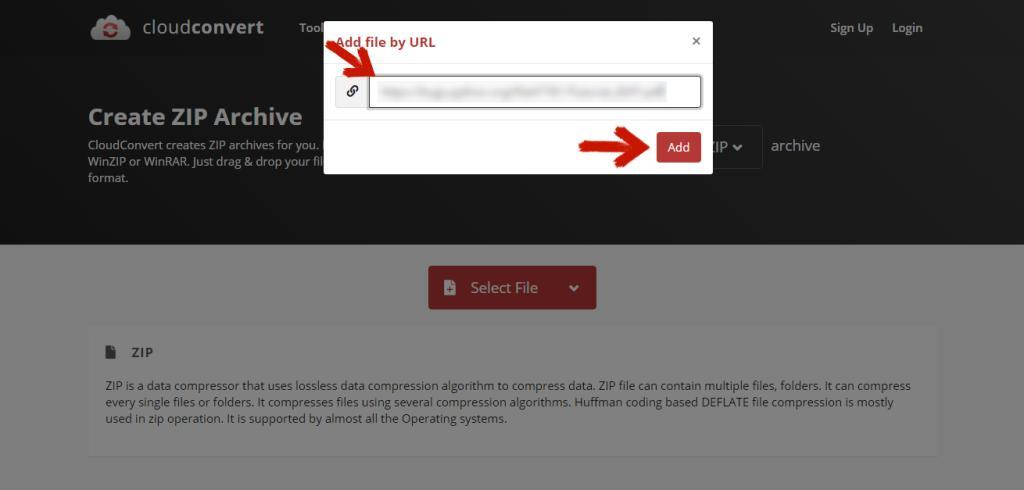 Step 5: You can now select the archive format. You have options for 7Z, ZIP, RAR, TAR, TAR.BZ2, TAR.GZ archives.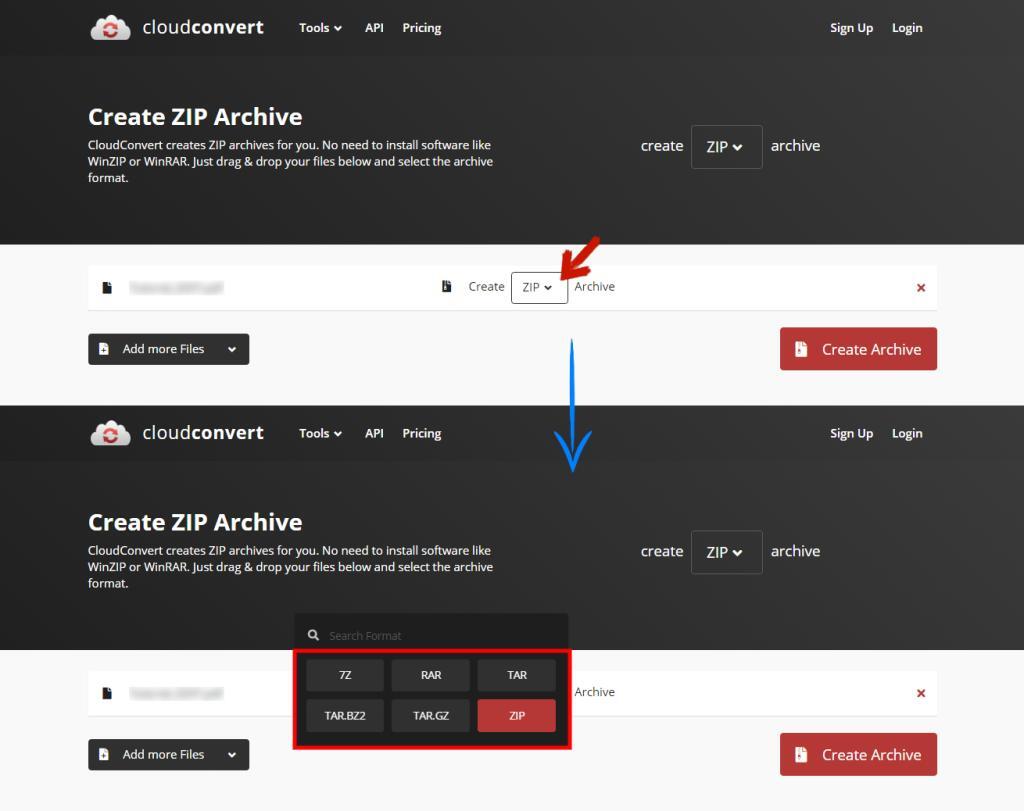 TAR is not a compression algorithm. TAR (Tape Archive) is used to create archive files. For better compression, you might want to choose 7Z.
Also note: Compression size might not be huge or as expected. Don't expect compressing a 4GB file into a compressed file of ~400 MB or less.
Step 5: After you've selected your required archive format, click on the Create Archive button to start compressing your file in that format.

Step 5: After you click on Create Archive, CloudConvert will start processing and compressing the file. This process includes downloading and compressing which you can later download.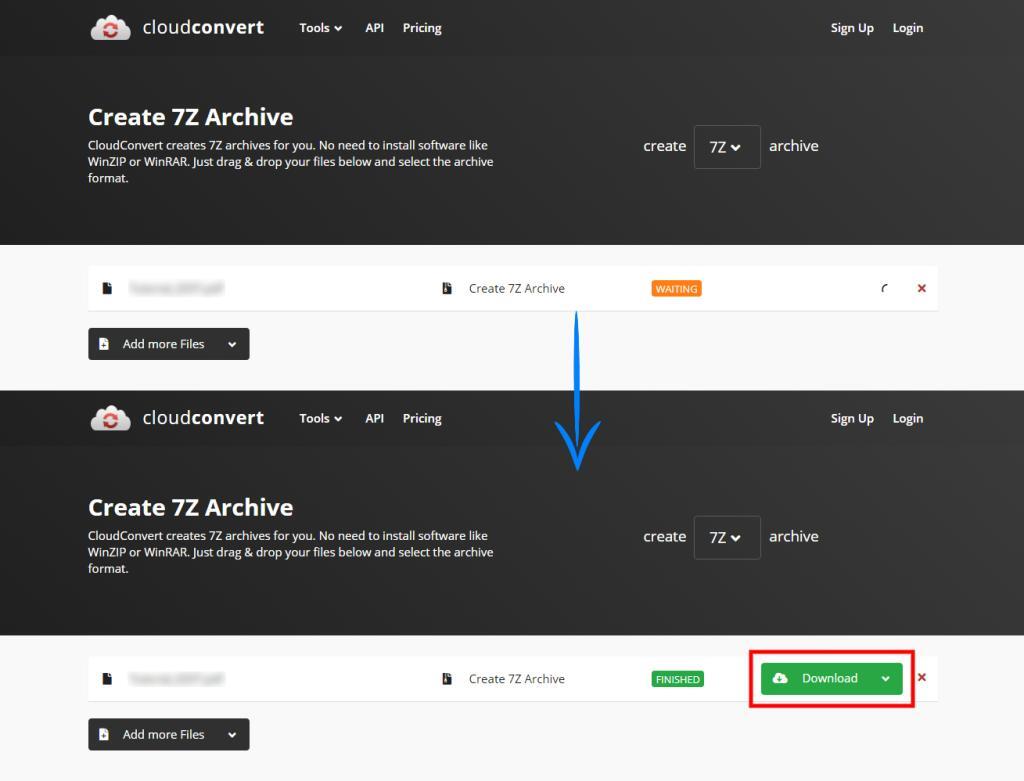 Step 6: As seen above, processing takes some time. It is indicated with a WAITING text or something similar in Yellow. After the file has been successfully converted you'll see a text that says FINISHED in Green. Click on the Download button to download the file on your device.
How to compress files online before downloading from mobile?
The process is basically the same as you do on a PC. Just what you need to make sure is to not use a proxy browser. Why is this so? This is because proxy browsers will not support some of the advanced JavaScript files that are required to make the whole process of compressing files online before downloading possible.
Such browsers do not support many of the required technologies that are extremely important during the process. If you can fulfill this requirement, then you are free to go on to compress files online by following the steps mentioned above.
Conclusion
You must be thinking that you'll get to download a highly compressed file. Hell no, you're kind of wrong. This method does compress your files online but not very much. If you think you'll get huge file compression then you should know you are wrong. Follow this only if you know what you are doing. This was it on compressing files online before downloading. Happily compress videos, games, and other files online before downloading from the web.
Hope you like this article. If you did, do consider subscribing to our mail list. If you have any problem with any steps, feel free to ask us in the comment box down!
Frequently Asked Questions
How can I compress files before downloading?
There are a few sites that offer what you are seeking. The major downside of this is you will not get ultra-high compression. If you have a fast or decent internet connection, this is not preferred at all. If you have a slower connection, you might try it but it doesn't make any noticeable difference.
How to highly compress files before downloading
This is not quite possible. Even if it happens to be possible (which isn't quite possible), decompressing will take a whole more time for you than you have anticipated. Highly compressing files online and then downloading is practically not possible due to the large number of resources that get utilized in the process.
Compressed files download for Android

The process is basically the same as PC for Android as well. There are a few sites that offer this but the compression will not be noticeable. Furthermore, if you try to highly compress files such as IOS, ZIP, or similar, you might end up corrupting that file because they are already compressed optimally, and compressing it again isn't recommended at all.